After a two year pandemic-related hiatus, BMW partnered with the Coachella Valley Music & Arts Festival as a platform for the fourth consecutive year to showcase e-mobility and its all-electric iX and i4 models. More than ever, the festival stands for a unique blend of excellence, pure joy, and a strong awareness of the socio-ecological challenges of our time. For Stefan Ponikva, Head of Brand Communication and Experience, Coachella is an ideal event to showcase the brand and the two all-electric models iX and i4:
"I'm really excited that Coachella is back. The need for emotional experiences is as important for brands as it is for people. Coachella embodies the perfect blend of inspiration, innovation and sustainable focus. This fits perfectly with the BMW brand values and goals and what turned out to be decisive for our renewed commitment. This year we are designing our communications with artist Doja Cat - she really inspired us with her ideas and creativity."
As one of the most influential artists of our time, Grammy award-winning artist Doja Cat was the dazzling new addition to a remarkable roster of BMW Road to Coachella artists. 
Since launching with the #RoadtoCoachella campaign in 2017, the goal has been to find artists to partner and co-create with while engaging Coachella attendees in an authentic way, creating a natural relationship between the festival and the BMW i Series. After collaborating with multiple Academy Award-winning composer Hans Zimmer, the alternative rock band Portugal. The Man, and global superstar Khalid, BMW returned to the desert in 2022 with one of today's most influential artists, Doja Cat.
For Doja Cat, Coachella is all about creating something impactful. "The show that I'm preparing for Coachella defines everything that I've done from day one. I never like to do the same thing over and over again, I want to embrace that instead of running from it" she says. "BMW is an iconic brand and I am honored to be working with them. Be on the lookout at Coachella for some Doja-inspired rides." She convincingly embodies diversity, equality, creativity - and the BMW brand essence: Joy.
The 2022 BMW Road to Coachella campaign featured original content with exclusive behind-the-scenes looks at Doja Cat's Road to Coachella and her rehearsals. The custom BMW iX car wrap inspired by her Grammy-nominated album Planet Her is one of the highlights. For this unique work of art, Doja Cat teamed up with one of the world's most renowned photographers, David LaChapelle, and creative director Brett Alan Nelson. 
The campaign also hosted a roster of amazing creative collaborators including skateboarding star Nyjah Huston; German actor, LGBTI activist and best-selling author Riccardo Simonetti; and respected US fashion designer Tremaine Emory. Supported by a fleet of Doja-wrapped all-electric BMW iX and i4 models, they passed on the joyful atmosphere of Coachella 2022 to their diverse followers around the world. Creators stayed in the Road to Coachella hotel which featured custom branding, framed images of Road to Coachella legacy artists, gift bags for each guest, a pool takeover, exclusive check-in with branded room keys, and large custom neon signage and decor throughout the hotel.  
The group of influential creators were also invited to a beautiful bespoke dinner overlooking Palm Springs to kick off festival weekend. The serene dinner was organized by Outstanding in the Field and featured a curated menu with cocktails at a signature long table in the middle of the desert. Influential guests, including Dixie D'amelio, Kade Speiser, Sofie Dossi, Tremaine Emory, Nic Kaufmann and many more, sat amongst each other and BMW execs, flanked by Doja Cat-wrapped Road to Coachella iX and i4 vehicles highlighted by custom lighting. The evening concluded with drinks around a fire pit. 
BMW also teamed up with Coachella festival headliners Swedish House Mafia to celebrate the release of their new album Paradise Again. The Friday night event at the legendary location Zenyara featured the band in a first-ever Spotify live stream performance, as well as three custom designed and wrapped BMW iX's for each of the members. The guys posed by their custom wrapped vehicles before taking the stage and performing.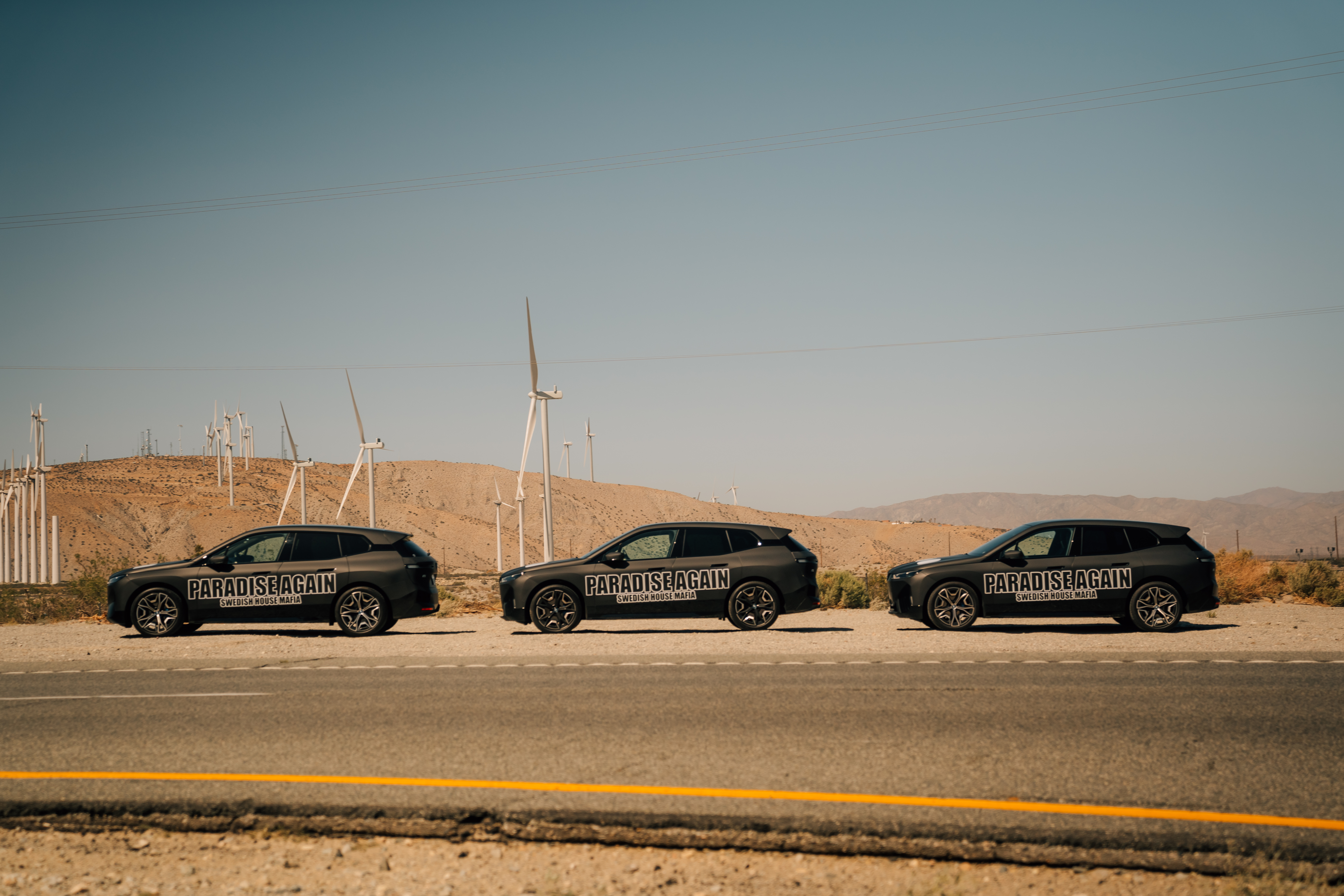 The event also featured a display of the Doja Cat-wrapped iX with a custom built neon experience. Doja Cat herself stopped by the experience to meet the BMW Road to Coachella influencer family and shoot social content. Doja Cat met with each of the creators to take selfies and create original content in front of the custom backdrop and her designed BMW iX. Doja created her own content and Tik Toks with the vehicle as well before leaving the event. 
Mirrored Media manages and organizes the annual BMW Road to Coachella partnership with Goldenvoice and AEG while developing and managing the Doja Cat partnership, event activations, fleet, and all on-site experiential. Mirrored works in partnership with The Game and Pacific Entertainment, also based in Germany, BDX Media captured all of the event and KOL co-created content.