An Inside Look at This Year's Sundance Film Festival

The 2023 fest followed a hybrid format, with in-person parties, events, and brand activations along with digital program offerings.

PARK CITY, UTAH—After two years of an entirely virtual format, the 2023 Sundance Film Festival returned to Park City, Utah, with in-person experiences (although digital programming was also on offer), bringing with it the face-to-face conversations and events that the independent film industry thrives off of.

For the 39th annual festival, which ran from Jan. 19-29, proceeds from ticket sales went to the development of emerging artists through the Sundance Institute. And New York Film Festival's Eugene Hernandez served as festival director, replacing Tabitha Jackson, who stepped down after two years. 

A livestreamed conversation and Q&A—dubbed Sundance Scoop—with Sundance Institute CEO Joana Vicente, director of programming Kim Yutani, and senior programmer and strategic initiatives director John Nein, kicked off the fest. During the online broadcast, Vicente said that this year, organizers prioritized the in-person experience, which was augmented by digital offerings. The online program featured more than 130 films that were accessible via the festival's digital platform.

While Vicente would not disclose whether the festival will commit to a hybrid format for future fests, he did note that the Institute is aiming to attract a younger, more diverse audience, so continuing to incorporate virtual offerings would seem like a smart strategic move.

The UTA House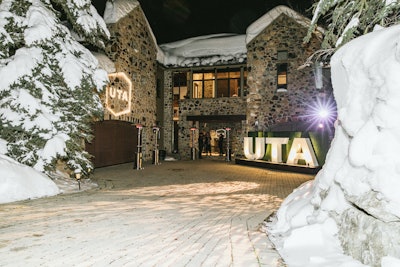 United Talent Agency (UTA) returned to the festival, hosting an invite-only private house for creatives, filmmakers, storytellers, executives, and industry insiders with a weekend of programming, panels, parties, and events. The UTA House was curated by the agency's entertainment and culture marketing division and featured programming partnerships with Women in Film, Archer Roose, Hartbeat, Free People, Barry's, Roku, Lyft, and others. Fitness- and skill-related activities, in partnership with Free People and Barry's Bootcamp, took place in the mornings.
Photo: Courtesy of UTA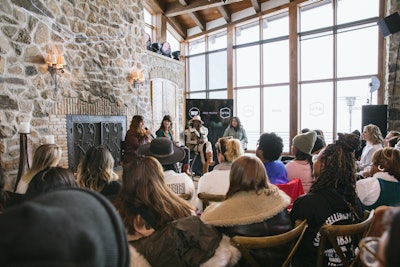 The private estate was transformed into a luxury venue for seated panels, lounges, cocktail receptions, seated dinners, parties, ski experiences, and workout classes. Guests were transported to and from the private estate and Main Street in a custom fleet of Lyft wrapped shuttles. The event series was produced by Los Angeles-based experiential agency Mirrored Media.
Read the whole article HERE