How TBS Modified a Theme Park Ride for This High-Flying Stunt

To promote the extreme competition series Go-Big Show, TBS created a truly memorable activation for its most fearless fans—and marked a first-of-its-kind ride modification for Six Flags.

JANUARY 18, 2022

SAN ANTONIO—To celebrate the season two premiere of TBS's Go-Big Show—an extreme talent show where contestants perform over-the-top feats to impress the judges and win $100,000—the network knew it wanted to do exactly that: go big. And what better way to honor the show's death-defying stunts than by asking fans to get a bit daring too?

Working with experiential agency Mirrored Media, TBS teamed up with Six Flags to launch the Go-Big Experience at the theme park's San Antonio location. Launched on Dec. 18 at Six Flags Fiesta Texas, the over-the-top activation modified the park's SkyScreamer ride by replacing a few of its traditional swings with harnesses—meaning that the ride's most daring fans could opt to strap in and soar 200 feet in the air in a stomach-down, arms-out flight experience.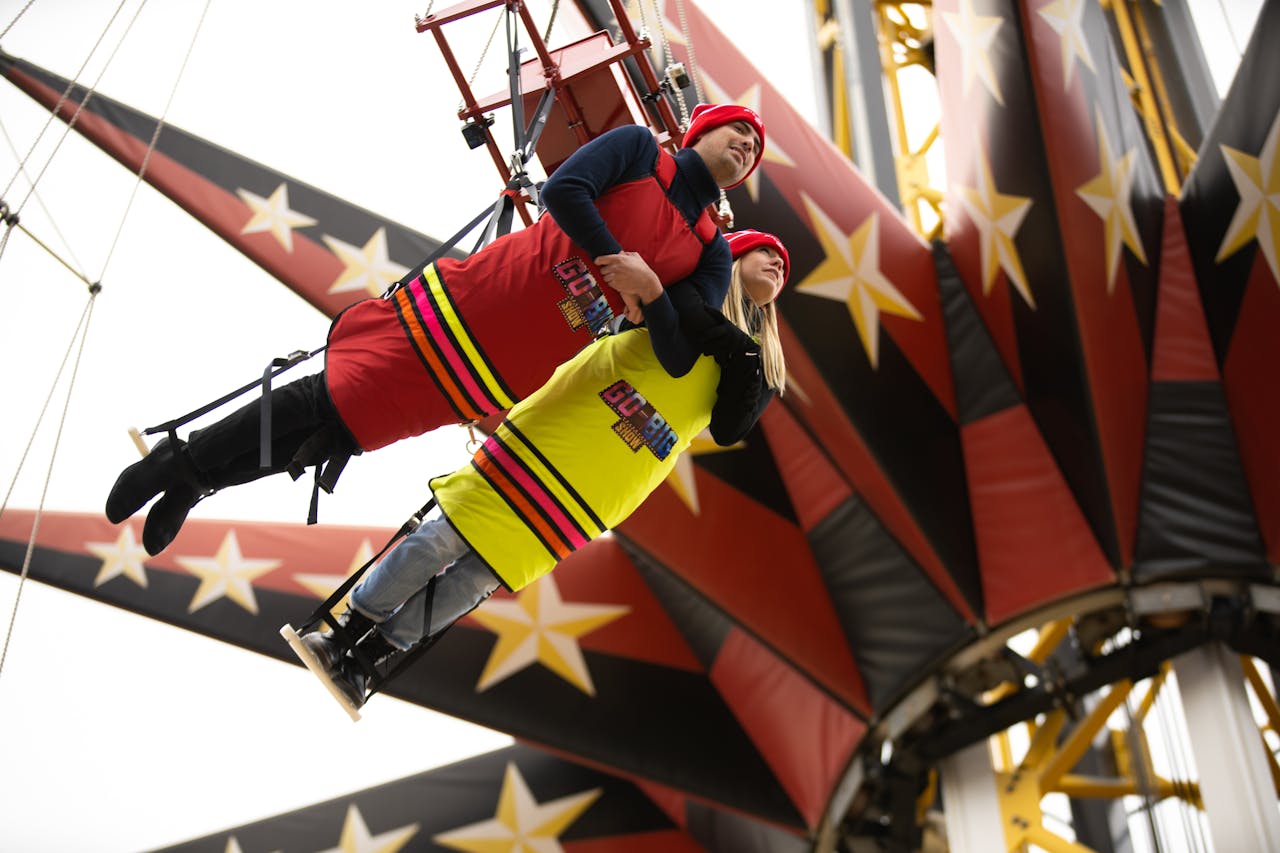 The experience marked a first-of-its-kind ride modification with Six Flags for a limited-time promotion. TBS and the Mirrored Media team worked closely with Six Flags' engineers, as well as the company's corporate partnership team and local park marketing teams, to pull it off safely.Photo: Courtesy of Mirrored Media
"Much like the show's bigger and crazier stunts in season two, TBS wanted to get even wilder and more stunt-based with the creative, with added focus on a safe, in-person, outdoor element," explained Justin Lefkovitch, Mirrored Media's founder and CEO. "With the state of the pandemic in a different place in 2021 versus 2020, we wanted to take advantage of what could be a once-in-a-lifetime in-person experience."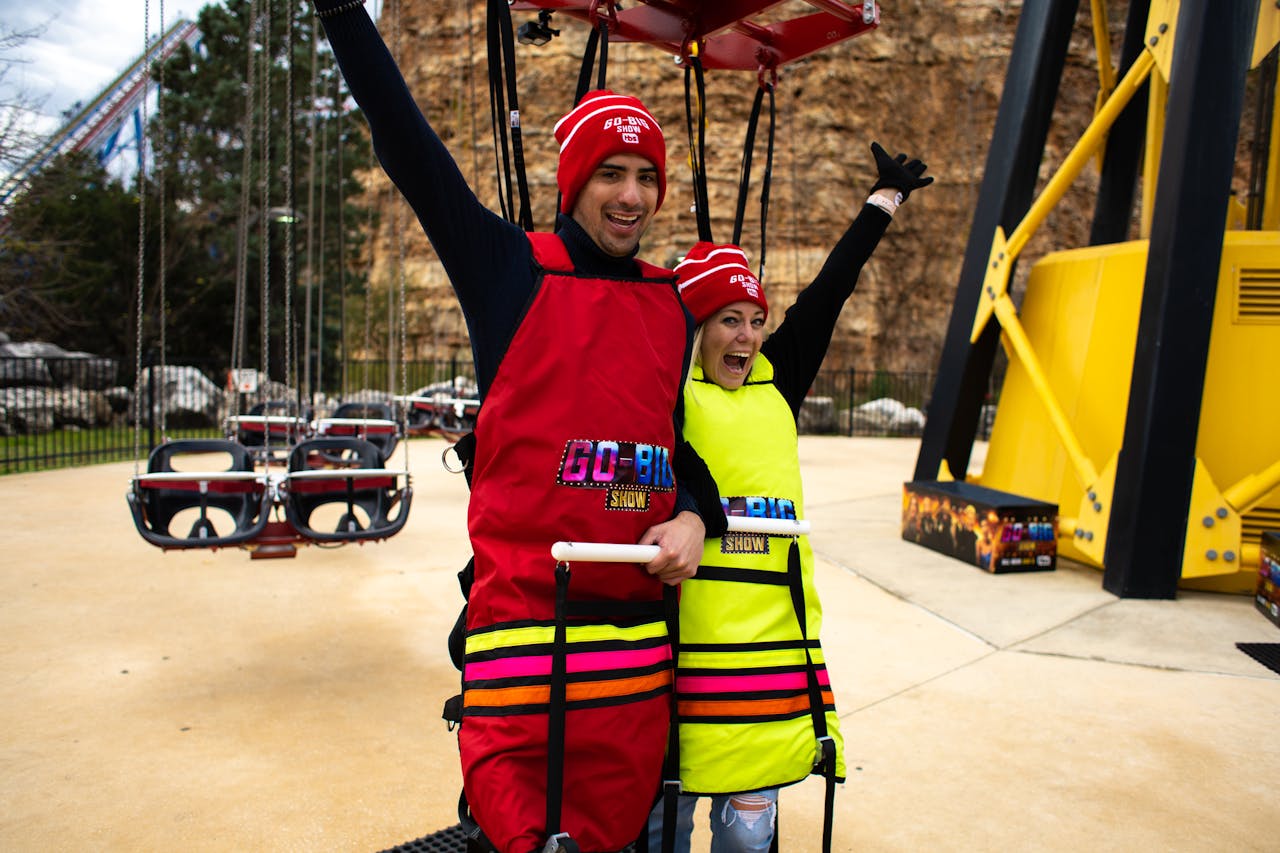 TBS, Six Flags and Mirrored Media worked together to develop the look and feel of the on-site experience, including designing branded harnesses, while staying in constant communication with the Six Flags engineering team about design parameters.Photo: Courtesy of Mirrored MediaThe Six Flags concept checked several important boxes for the network: It allowed for a nationwide presence, a holiday tie-in and, most importantly, the opportunity for thrill-seeking creative inspired by the show. "During these conversations with Six Flags, we realized that a ride modification—above just a ride sponsorship—was actually very feasible and would drive home what Go-Big Show and its campaign were all about," said Lefkovitch.
The experience marked a first-of-its-kind ride modification with Six Flags for a limited-time promotion. TBS and the Mirrored Media team worked closely with Six Flags' engineers, as well as the company's corporate partnership team and local park marketing teams, to pull it off safely. 
Of course, finding the right ride was key. "We took a look at several potential rides that were brandable, but not necessarily modifiable," remembered Lefkovitch, who noted that the team eventually settled on the San Antonio location's SkyScreamer for several reasons: "It was a larger-than-life thrill ride that captured the essence of Go-Big Show, it was located in a warm-weather climate that would see substantial foot traffic during the winter months, and it would remain open through the duration of the campaign and the show's premiere."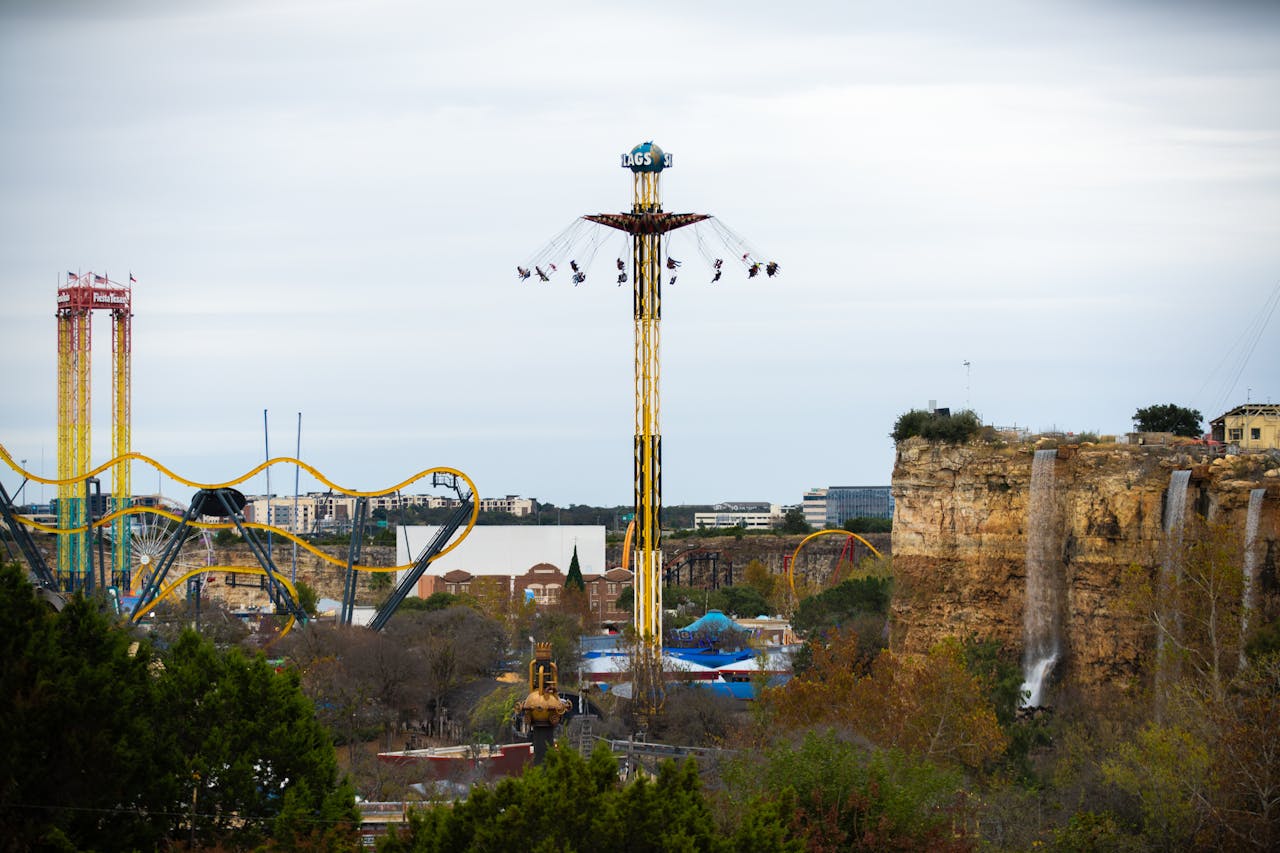 "The Six Flags team had a first-of-its-kind modification idea for the ride, and we realized it would be hard to go bigger than flying head-first, belly-down at 40 miles-per-hour suspended 200 feet above the ground!" said Mirrored Media's Justin Lefkovitch.Photo: Courtesy of Mirrored Media
Once the team settled on the ride, they were able to fine-tune the details. Mirrored Media provided Six Flags with the resources needed to design and test the ride's harnesses, as well as to secure staffing on the local level, ensure safety quality control and expedite ride permitting. "Meanwhile, we worked with their team and TBS on developing the look and feel of the on-site experience, including the overall branding, harnesses themselves, ride signage and exterior modifications, line flow and line signage," added Lefkovitch. "We received constant updates from the Six Flags engineering team on what exactly our design parameters would be."
The engineers also ensured that the ride and harnasses would be cleared, repeatedly and meticulously tested, and recertified by the state of Texas in time for a Dec. 18 debut. "These are processes that generally take lots of time to finalize for brand-new rides, but we were able to expedite the process safely in just a matter of weeks," he said.
To further immerse guests in the experience, Mirrored Media also modified the line layout and overall guest experience, transforming the previous "skip-the-line" queue into the exclusive Go-Big Experience line, and allowing guests to choose-their-own-adventure with the help of staffers and directional signage. While waiting in the queue, fans listened to a custom soundtrack inspired by the show, along with messages from judge Cody Rhodes and voice-over messaging about the show and the Go-Big Experience. "Everything tied back to the show and tune-in information in a seamless and authentic way," said Lefkovitch.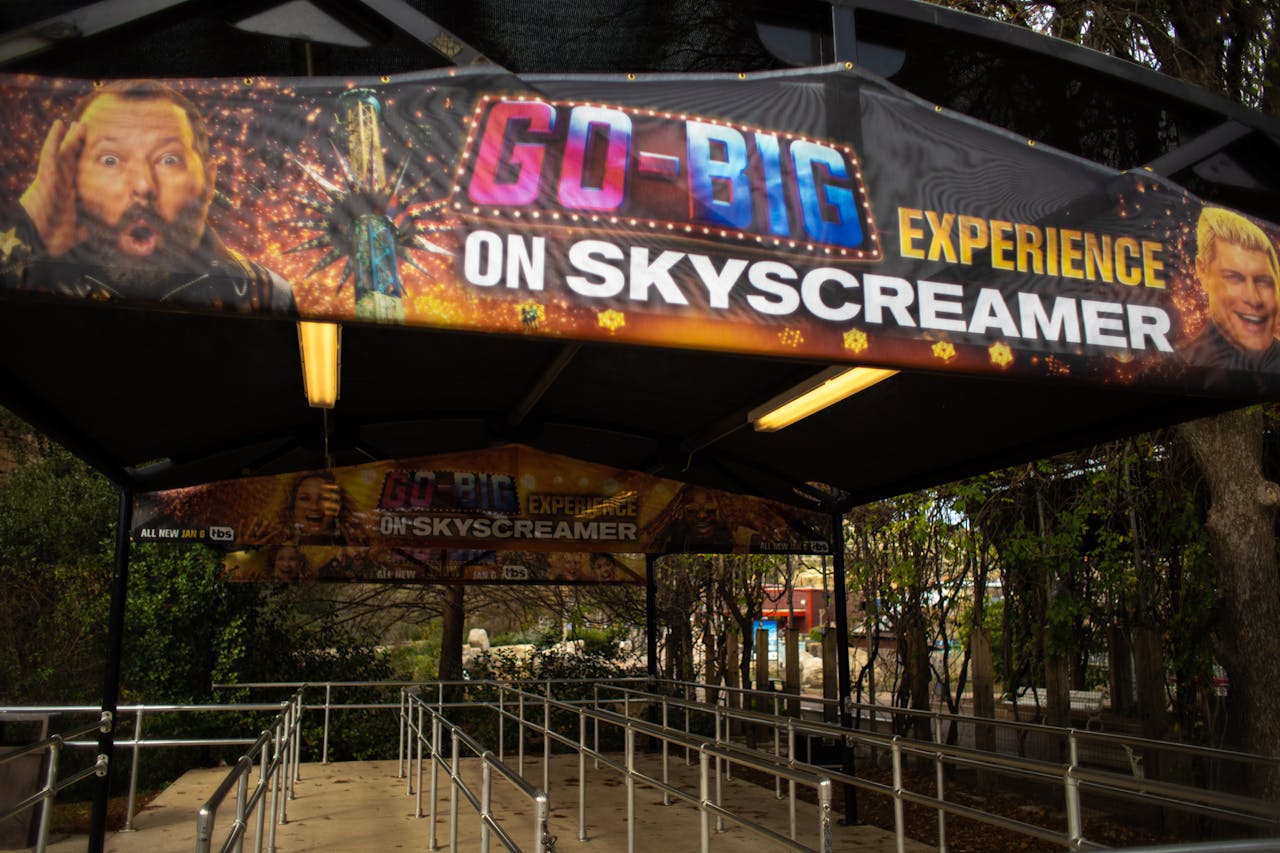 "The ride was now essentially two rides in one: the original SkyScreamer and the Go-Big Experience," Lefkovitch explained. "Guests were able to choose their fate by selecting either the traditional swings line, or our exclusive Go-Big Show flight suit-up queue line."Photo: Courtesy of Mirrored Media
As an additional Go-Big Show promotion at Six Flags locations around the country, TBS offered a supersized take on a theme park classic. The Go-Big Funnel Cake, which debuted at select parks on Dec. 18, combined a big stack of fresh funnel cakes with a generous helping of soft-serve ice cream, chocolate sauce, berries and whipped cream. Parks around the country also showcased on-site signage, along with digital signage and TV spots, promoting the show.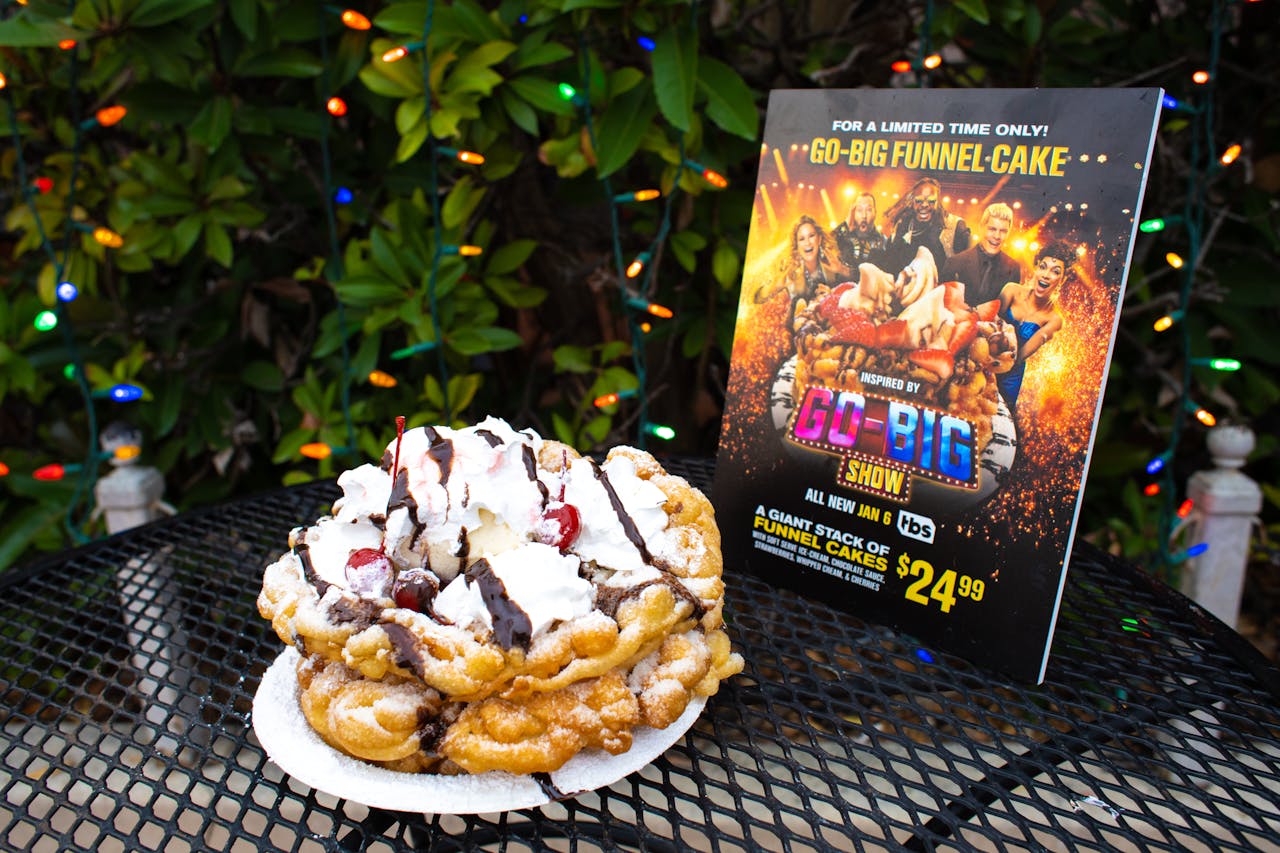 "The funnel cake is not only a staple of theme parks everywhere, but it is a vital part of Six Flags culture. We wanted to take something so quintessentially authentic to Six Flags, to rebrand and expand it as something larger-than-life to align with Go-Big Show themes," said Lefkovitch.Photo: Courtesy of Mirrored Media
There was also a Six Flags ticket giveaway sweepstakes for fans nationwide, in conjunction with the release of the season two trailer in early December. Twenty fans who reshared the trailer received two tickets to the Six Flags park of their choice and were also sent Go-Big Show-branded kits in the mail that included oversized stockings and holiday sweaters, along with branded beanies, buttons and pins.
"Finally, we identified national influencers and those local to each Six Flags market to enjoy the Go-Big Experience for themselves while creating and sharing content," added Lefkovitch. "We also filmed our own social content that was edited and provided to Six Flags and TBS to share on their own handles. All content was launched and targeted on the day of the season-two premiere to promote tune-in."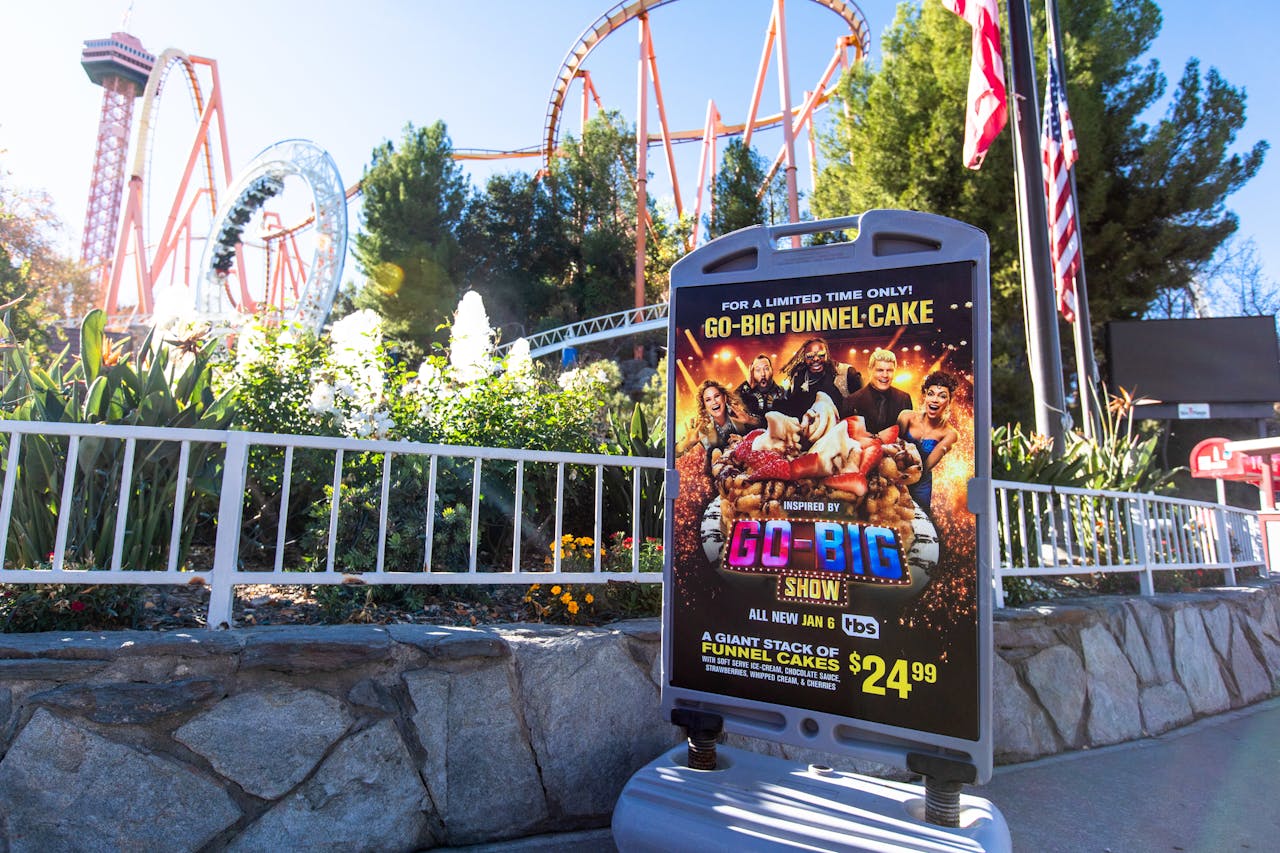 Mirrored Media introduced on-site signage at 10 parks nationwide, along with digital signage and TV spots.Photo: Courtesy of Mirrored Media
When asked about the biggest challenge of executing a stunt like this, Lefkotvitch said, "Time, without question." After locking in the partnership, he noted that the team had just weeks to get all campaign aspects confirmed by the client, designed and approved—in the middle of the Thanksgiving, Christmas and New Year's holidays. "Needless to say, many of us worked through what is typically a holiday break to pull this off," he said.
The ongoing uncertainties of the pandemic were also a concern, he added. "We had to remain flexible to adapt to any materials shortages, staffing issues, and state and local protocols. But due to the shared vision between us, TBS and Six Flags, we were able to achieve something truly special." Ultimately, the ride experience has been so popular that Six Flags and TBS decided to extend the takeover for an additional two weeks, with the potential for an even longer run. 
For the Mirrored Media team, the project was something of a dream come true. "We grew up as massive theme park fans, and actually count that experience among the reasons we got into experiential in the first place," said Lefkovitch. "It was extremely rewarding to be so passionate about something your entire life and then have the chance to craft a guest narrative and experience for that exact passion."
For other experience producers trying to pull off similar stunts, Nils Montan, Mirrored Media's lead producer on the project, advises them to do their due diligence ahead of time—and trust their partners. "We placed a great amount of faith in the entire Six Flags team, and they came through from top to bottom," Montan said. "They also placed a great deal of trust in us, which allowed us all to deliver a larger-than-life experience for TBS and shatter even the wildest of expectations."
The second season of Go-Big Show premiered on Jan. 6 on TBS with host Bert Kreischer and celebrity judges T-Pain, Rosario Dawson, Jennifer Nettles and Cody Rhodes.