Bose strutted into New York Fashion Week (NYFW) with a new "Sound is Power" mantra and a blend of art and technology experiences that introduced its QuietComfort Earbuds II and reinforced the idea that audio is more powerful when it's personalized. At New York City's Glasshouse on Sept. 8, the brand hosted a press launch, followed by an evening influencer event produced in partnership with NYFW that served as the annual show's official kickoff soiree. A sensorial entry moment, live demos, interviews with product experts and a performance by The Strokes were all designed to deliver on Bose's "transformative sound experiences" brand promise.
The press event was meant to provide key media members with a curated product launch experience, beginning with an immersive entry moment through a tunnel lined with LED tickers that displayed key brand messages in multiple languages. The visuals were supported by 360-degree spatial audio, with voices in various languages reciting the messaging, accompanied by a background track that carried attendees down a hallway where the sound reached a climax and an illuminated "Sound is Power" block-letter logo came into view.
Next, attendees entered a drastically different space: a dark, quiet room where Bose team members greeted everyone and discussed the new earbuds. But it wasn't long before custom-fabricated stands displaying the product began to illuminate and a large LED screen displayed branded content, signifying the official reveal moment. The entire spectacle was scripted to provide a genuinely theatrical experience.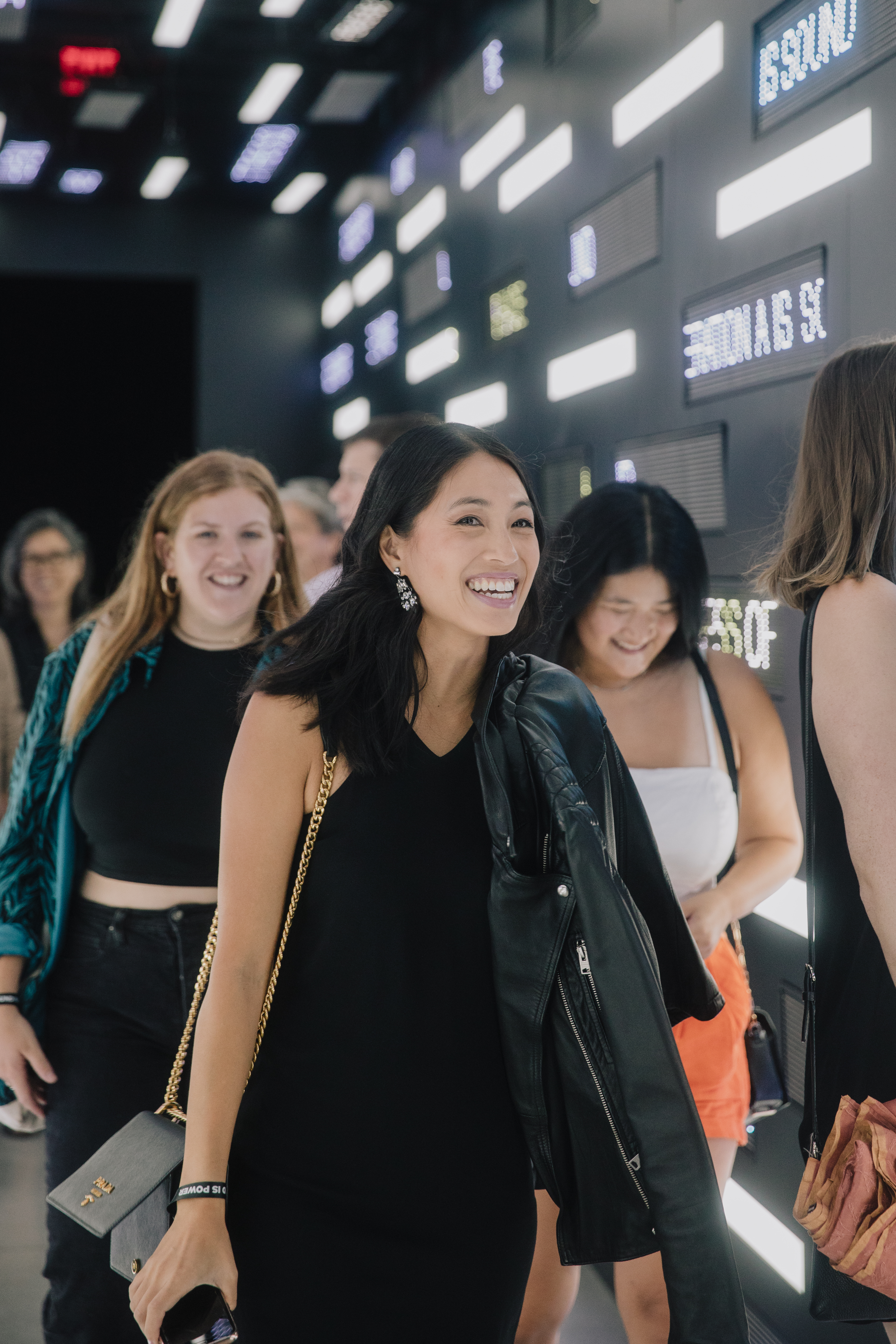 Following the reveal, media members were guided through the personalized fit of the earbuds by a Bose expert. They also caught a multi-faceted live demo, accompanied by 270-degree projection-mapped graphics, that showcased the noise-cancelling power of the product. The activation placed them in scenarios where the new earbuds would work best, like in an NYC subway car or a plane cabin. In each instance, attendees were instructed to use different modes of the product so they could experience it firsthand.
The event was capped with a brunch where press could interact with key executives and product experts. Then, within a matter of hours, the space was transformed for an evening launch party with NYFW tastemakers.
More than 1,000 people attended the affair on the sixth floor of Glasshouse, which featured panoramic views of the city. In keeping with the overall program branding, attendees were first met with a digital ticker step-and-repeat moment when stepping off the elevator. They then entered the same immersive tunnel that engaged press earlier—and quickly turned it into their own runway with a number of high-profile tastemakers taking it upon themselves to sashay up and down it for social content. Following the tunnel was the product reveal moment.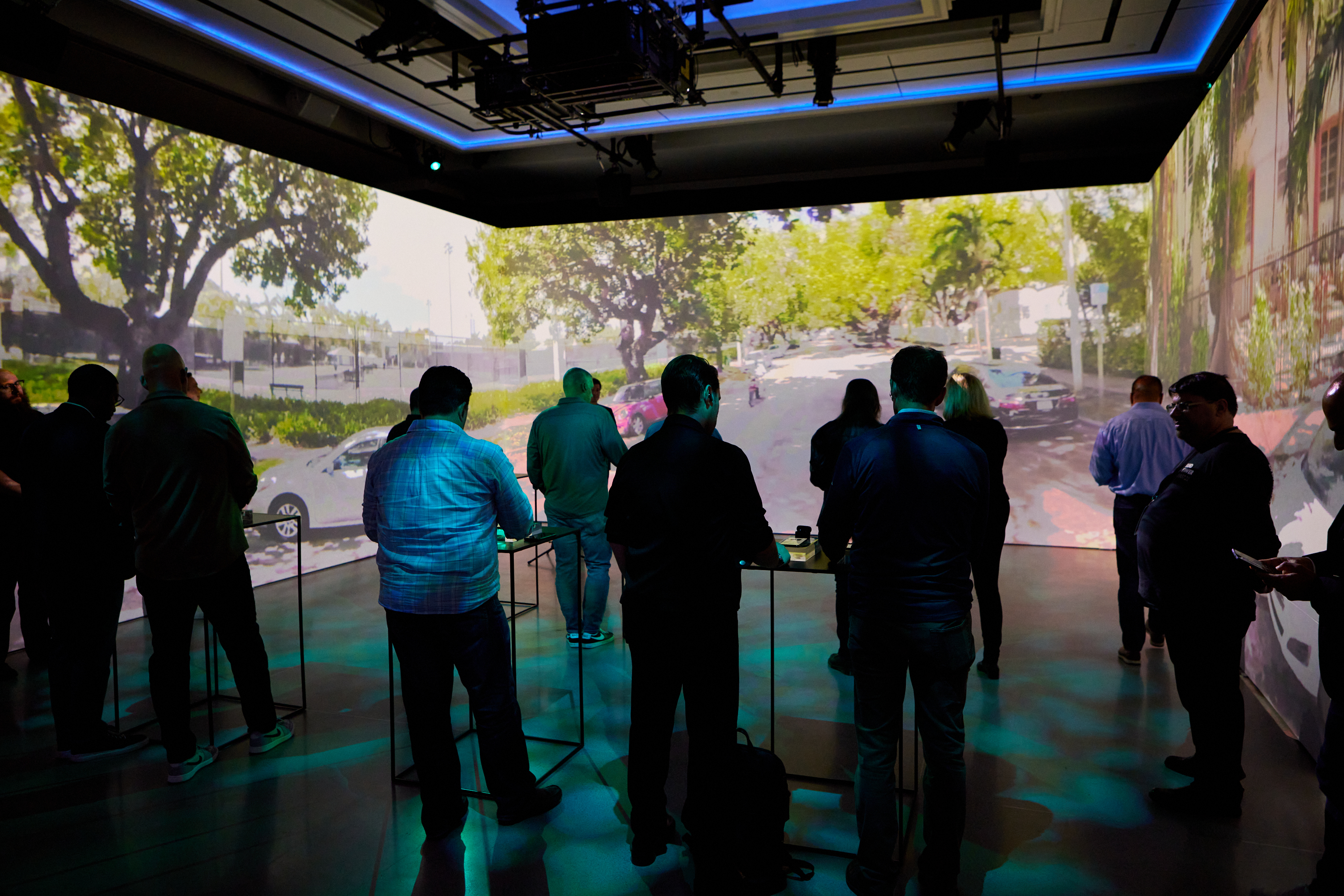 When they landed at the main event, influencers were invited to sign up for experiential earbuds demos, sip cocktails crafted at pour-over drink stations, snack on premium apps, enjoy sets by fashion designer and dj Heron Preston and DJ William Lifestyle, and, wrapping the evening, catch an intimate, 50-minute performance by The Strokes.
"Sound is Power" messaging was woven through a number of activations and demo experiences. Among them: a robotic "Glambot" arm that let attendees model the QC Earbuds while striking a pose in front of a custom mylar wall featuring LED tickers and a Record Room installation where, against a backdrop of Bose-branded records, participants interacted with a MIDI drum machine to trigger a sound and light experience that resulted in a shareable 12-second clip. Content captured on-site was immediately sent to attendees to share on their social channels. Rounding out touchpoints was an exclusive merch station inspired by NYFW with custom Bose and Heron Preston items available for attendees to personalize with handheld printing guns.
Across the program, which trended on traditional and social media channels and was deemed a resounding success by Bose, one of the highlights was watching influencers opt in to participate in earbuds demos.
"It was incredibly gratifying to see people who had seven other things they could have been doing—they could have been dancing or getting a craft cocktail—but nope, they were going to wait in line to get that demo because they wanted to hear it, or someone else told them they'd been through it and they had to do it for themselves," says Martin Dluzansky, creative director-communication and experience design at Bose. "That to me is the mark of a great product experience and event experience, where one and the other really work seamlessly together." Agency: Mirrored Media.