THE POWER OF PINK: WARNER BROS. BRINGS 'BARBIE' TO LIFE AT AN 'OVER THE TOP' PREMIERE EVENT

Posted on August 21, 2023 by Kait Shea
"The 'Barbie' premiere was over the top—over-the-top pink explosion, over-the-top builds, over-the-top environmental, and then into the party was 2,000-plus people. And we leaned in hard with creators and influencers, so we wanted to make sure that it had that immersive feeling so when the influencers were on the carpet, they were able to capture and create content that would travel and was perfect for their particular channels."
–Wendy Robino, SVP-Marketing Events and Regional Publicity, Warner Bros.
---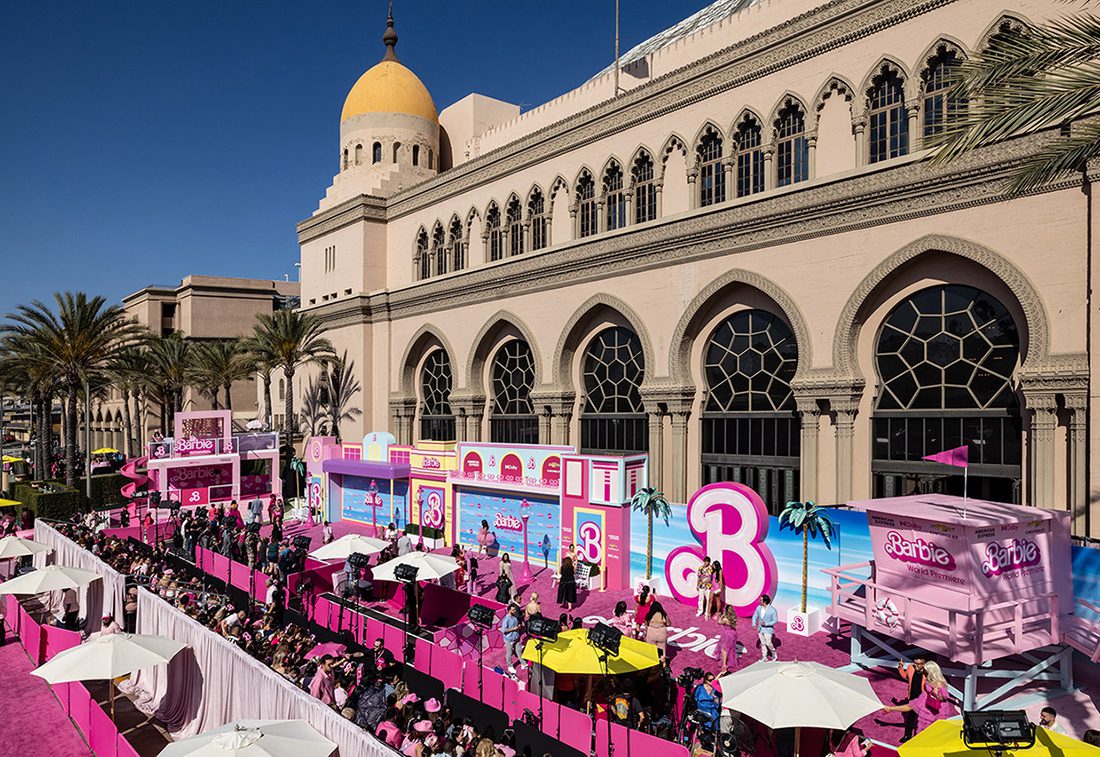 The pink-carpet "Barbie" event at the Shrine drew 2,400 people, making it Warner Bros.' biggest premiere event to date.
If your cheeks haven't flushed with "Barbie" fever this summer, you're in the minority. The Warner Bros. movie took the world by storm even before its July 21 debut, with a slew of brand collaborations, and a global premiere event circuit that served as an experiential extension of the blockbuster film.
The tour began with an immersive press junket on June 24 that transformed the 14th floor of the Four Seasons Hotel in Beverly Hills into a Barbie Dream Hotel before events attended by talent, media, influencers and fans hit Australia, South Korea, Mexico City and London. But it was the larger-than-life "pink" carpet experience, screening and afterparty for 2,400 people at the Shrine in Los Angeles—Warner Bros.' biggest premiere event to date—that took the cake. (Really, what other screening would inspire serious actors to slip down a hot-pink spiral slide?)
Planning for the July 9 event in L.A. began four months out, and like the overarching marketing campaign for the "Barbie" movie, the experience was designed to position Mattel's Barbie brand as fresh and inclusive while paying homage to the themes and aesthetic of the Greta Gerwig-directed film. From soup to nuts, the affair was like Barbie herself: high-energy, glamorous and very, very colorful.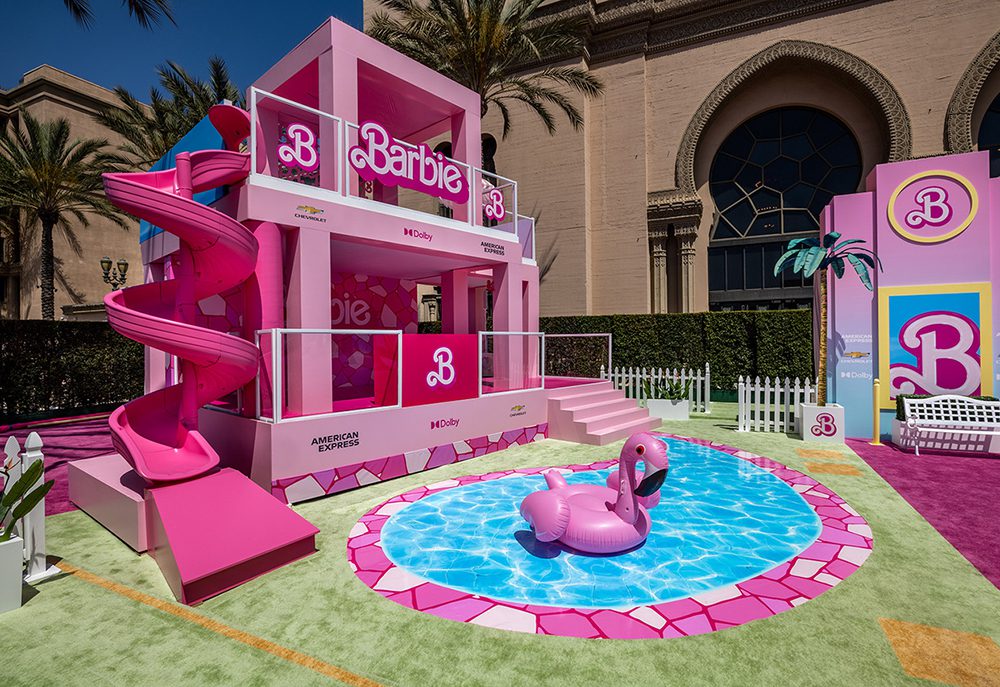 One of the premiere's most memorable touchpoints: A life-sized version of Barbie's Dream House.
Each segment of the event was meant to cohesively flow into the next. It all kicked off on the branded pink carpet outside the Shrine, where a broad range of influencer partners, including those with special accessibility needs, were invited to grab content for two hours before talent appeared to help amplify the experience. And there were plenty of touchpoints to capture—all expertly designed to mimic key scenes from the movie, and peppered with Easter eggs.
"The biggest challenge we had was just pink," says Craig Waldman, president and chief creative officer at 15|40 Productions. "There are so many pinks that were used within the film that our paint department was mixing and sending paints over to the [Warner Bros.] team to look through. It was a matter of being able to use pink, but being able to have different tones and use of the same colors where it made sense—so it was pink at its finest."
Attendees first arrived at a pink-carpet "beach" with surfboards, faux palm trees and a life-sized lifeguard station. They then strolled by a massive Barbie "B" logo installation and a dreamy cityscape before reaching the attendee favorite: Stars, press and creators alike went wild for an eye-catching, two-level replica of Barbie's Dream House featuring the spiral slide ("We had to have that slide," says Wendy Robino, svp-marketing events and regional publicity at Warner Bros.), space for a dj to spin tracks and talent to conduct interviews, and a fabricated pool out front, complete with a pink flamingo float. Barbie's (real) pink Corvette was parked nearby. Not far from her ride was a Chevrolet "Barbie Dream Blazer EV" encased in a classic, oversized Barbie doll box.
"The 'Barbie' [premiere] was over the top—over-the-top pink explosion, over-the-top builds, over-the-top environmental, and then into the party was 2,000-plus people," says Robino. "And we leaned in hard with creators and influencers, so we wanted to make sure that it had that immersive feeling so when the influencers were on the carpet, they were able to capture and create content that would travel and was perfect for their particular channels."
Following the pink carpet arrivals and official screening, which marked the first time "Barbie" was revealed to the public and the only premiere event on the Warner Bros. tour that included a showing, it was time for a dazzling technicolor afterparty presented in partnership with Mattel and a handful of partner brands.\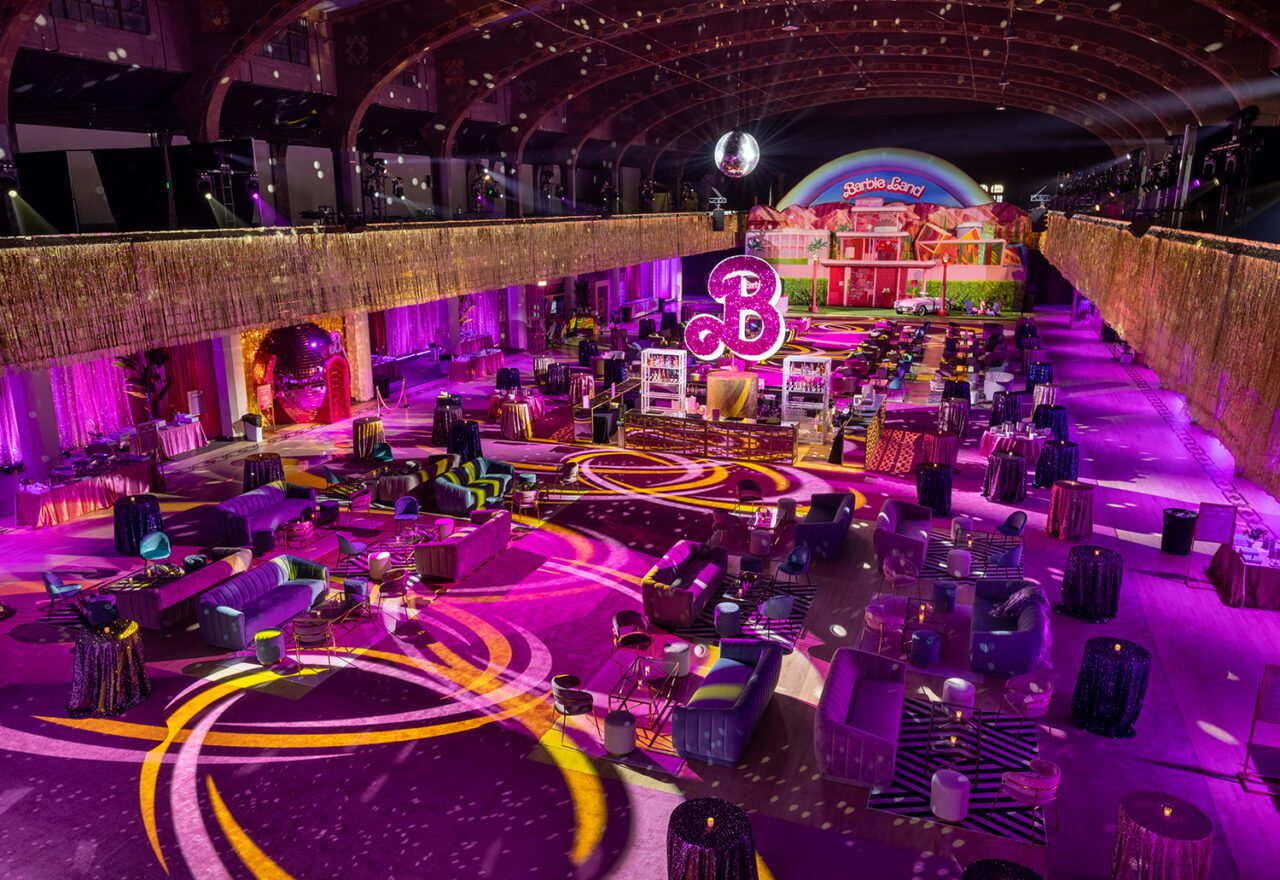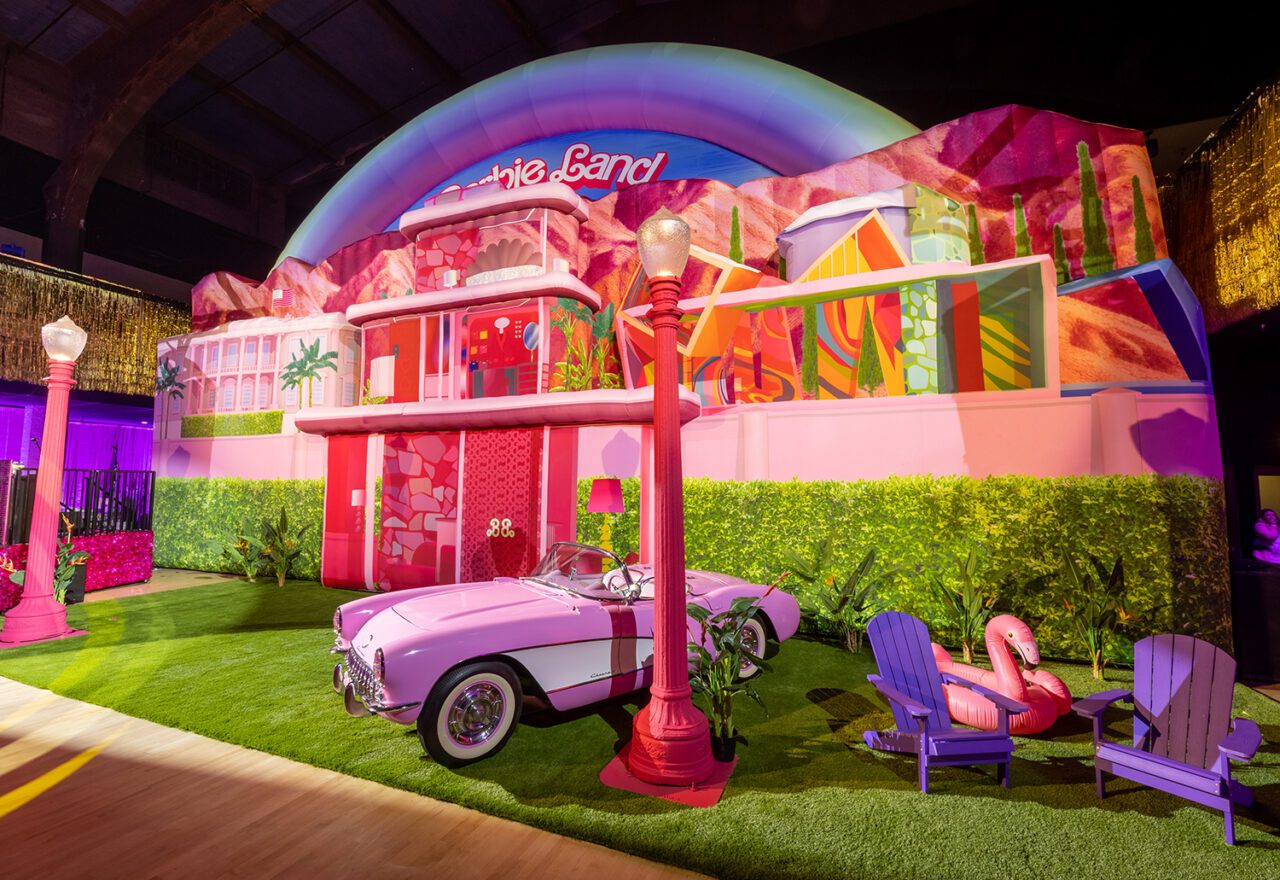 The Shrine's interior was completely transformed into a glittering "Barbie" playscape that served as a montage of "Barbie" scenes and spanned a 36-foot-high by 56-foot-wide inflatable "Barbie Land" installation and corresponding cul-de-sac scene, a replica of Weird Barbie's house, a "Kendom" man cave vignette, an elegant bar anchored by another massive "B" installation and interactive partner activations.
Another key touchpoint: A glittering, 12-foot-diameter disco ball that invited plenty of photo ops on its tinsel-covered exterior, while the interior included a six-foot-tall Barbie Dream House built proportionally to the Mattel dolls' scale and populated with new dolls featured in the "Barbie" movie, along with more than a dozen mini disco balls and three film vignettes featuring real set builds from Mattel's corporate headquarters.
Partner activations were designed to align with the afterparty vibe and the film itself, like an O.P.I. nail salon and an Xbox Forza gaming station (in Forza Horizon 5, players can drive two electric General Motors vehicles from the film, Barbie's Corvette and Ken's Hummer).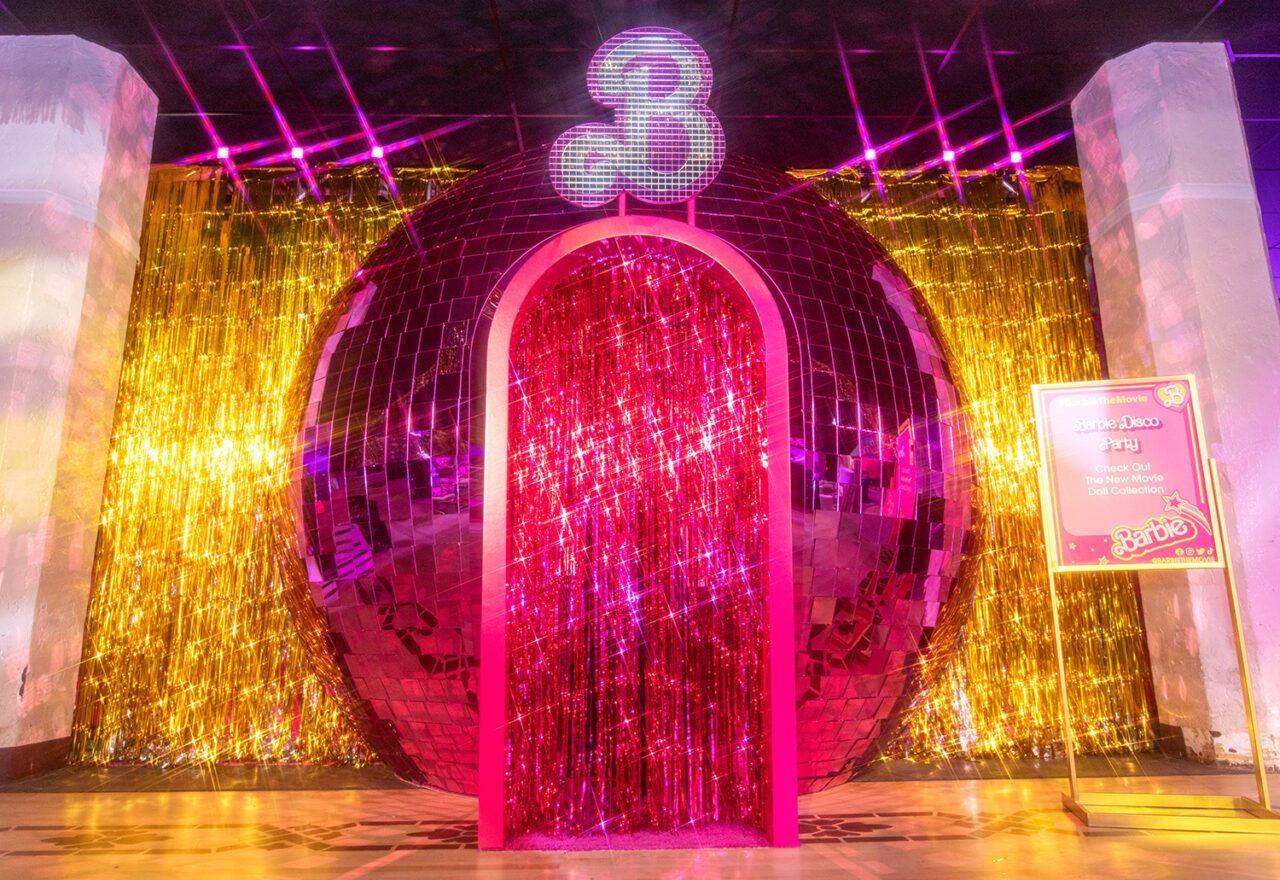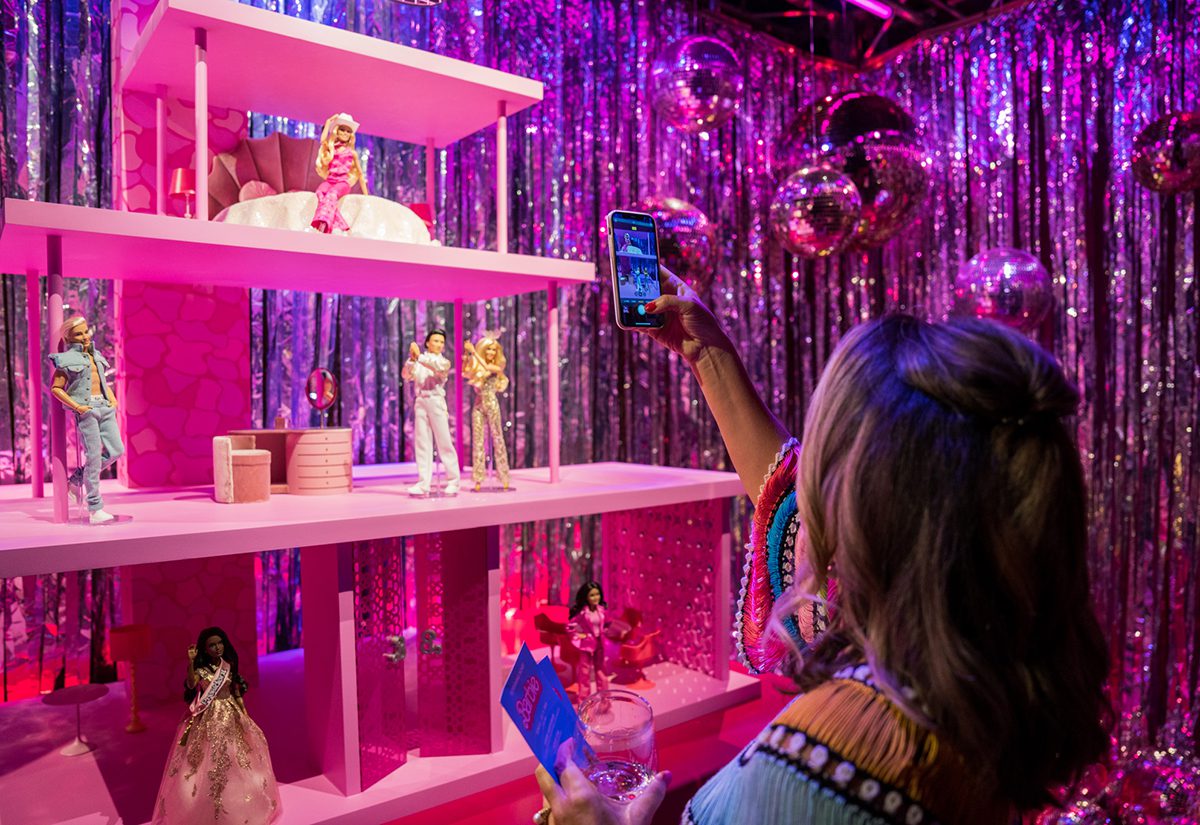 "Creating vignettes that celebrated partners like General Motors without giving General Motors the afterparty, having an Xbox gaming station without it becoming an Xbox party, is a very unique way that you've got to cross over real, human, earth-world things with the crazy textures that are 'Barbie' and create a true-to-form film," says Austin Johnston, ceo and founder at AKJOHNSTON Group, which co-produced the post-screening event. "So when you walk in there, it feels like an afterparty, not a trade show."
Meanwhile, Dolby stepped in to transform part of the Shrine into a proper theater for the screening with a 140-foot screen and Dolby Atmos sound, and American Express offered select cardmembers a "money-can't-buy" experience that entailed a walk down the pink carpet, the chance to watch arrivals and a brief meet-and-greet with Gerwig and Kate McKinnon, who plays Weird Barbie in the movie.
"The overall marketing campaign for the film was about making the Barbie brand feel new and fresh again, especially from the mind and the vision of our filmmaker, Greta," says Robino. "And with the events that we did, particularly the premiere and the [after] party, we wanted it to feel hip, fresh, exciting. We just didn't want it to feel dusty—you could easily think Barbie is dusty. I think the entire campaign in general, beyond even events, was able to do that." Agencies: 15|40 Productions (red carpet event); AKJohnston Group and Mirrored Media (afterparty).