Mirrored Media's CEO and Founder Justin Lefkovitch was included as one of 20 creative agency leaders that is redefining what's possible in experiential marketing through engaging activations, smart pop-ups, and over-the-top stunts for big brands by BizBash.
Industry Innovators 2022: Justin Lefkovitch

The founder and CEO of Mirrored Media draws on his background as a magician to create activations that let guests escape reality.

How he got his start: Lefkovitch's journey into experiential happened by accident. "I founded Mirrored Media in 2010 after accidentally falling into the role of artist manager for an original member of the Beach Boys," he says. "During this time, I saw firsthand the inherent issues that were present when brands attempted to partner with talent."

Then a student at Pepperdine University, he ended up crafting a business plan for a creative agency that could also execute, understanding both the brands' and artists' objectives in an authentic way. During a chance meeting with entrepreneur Steve Kofsky, Lefkovich was able to pitch his vision for the company.

"He believed in my dream and introduced me to his business partner and world-renowned film composer Hans Zimmer, and emptied out a broom closet and invited me in! Mirrored Media was born," he says. "While we occupy a lot more space than a broom closet now, we are still on the same campus, and I have the honor of calling both Steve and Hans partners."

Lefkovitch's experiential vision draws from his background in magic.

"At just 13 years old, I was one of the top-performing magicians in Los Angeles and a regular at the famed Magic Castle," he says. "I took this love for suspending disbelief and incorporated it into creating fully immersive brand experiences."

He quickly found that many of the techniques he used in magic could also be applied to experiential: "So often the difference between a successful trick and a transparent one comes down to the tiniest detail, which can transform an ordinary experience into something extraordinary."

In his free time: Lefkovitch is a founding member of the Experiential Guild of America. He's also a performing member of the Academy of Magical Arts, a board member of Project Survival Cat Haven, and a music consultant for Cirque du Soleil's One Night for One Drop.

What innovation means to him: "I think there tends to be this false notion that if something is innovative it has to be disruptive," he explains. "That's not necessarily the case, especially in this industry. Some of the most innovative concepts evolve over a longer period of time, incrementally. For instance, if you produce an annual event, you may make small, subtle improvements from year to year. But when you compare how the event looked at year one and at year five, these incremental changes end up resulting in something that is seemingly unrecognizable from the original."

Lefkovitch also focuses on innovative ways to enhance the guest experience, whether that's adding a new "wow" factor or new social-sharing options or technology. The idea, he says, is to seamlessly carry a narrative through every possible touchpoint before, during, and after an event. 

"Innovation in live experiences can of course be exciting, flashy, and conceptually central. But it can also be represented in subtle ways that extend the story in ways that contribute to the overall feeling of participating in a brand or property's story, fully immersing guests in the worlds we create and allowing them to fully escape reality," he points out. "This could be as simple as finding intentional and thoughtful ways to make necessary wayfinding signage or a check-in process seamless within the world of the experience, removing any moments for guests to disconnect from the narratives we tell and specific sense of place we strive to create."

How he stays inspired: Lefkovitch draws inspiration by observing what his fellow industry colleagues are doing and by attending festivals, museums, art spaces, and other types of events, performances, and installations.

"I can't remember the last time I attended an event like Coachella, Cirque du Soleil, CES, or Art Basel and didn't come away feeling inspired and full of fresh creative ideas," he says. "Sometimes, the experiences that I have inspire ideas on projects that seem like they'd be totally unrelated—but by exposing myself to as much art, tech, performance, and general creativity that I can, I build an arsenal of inspiration to pull from, both directly and indirectly."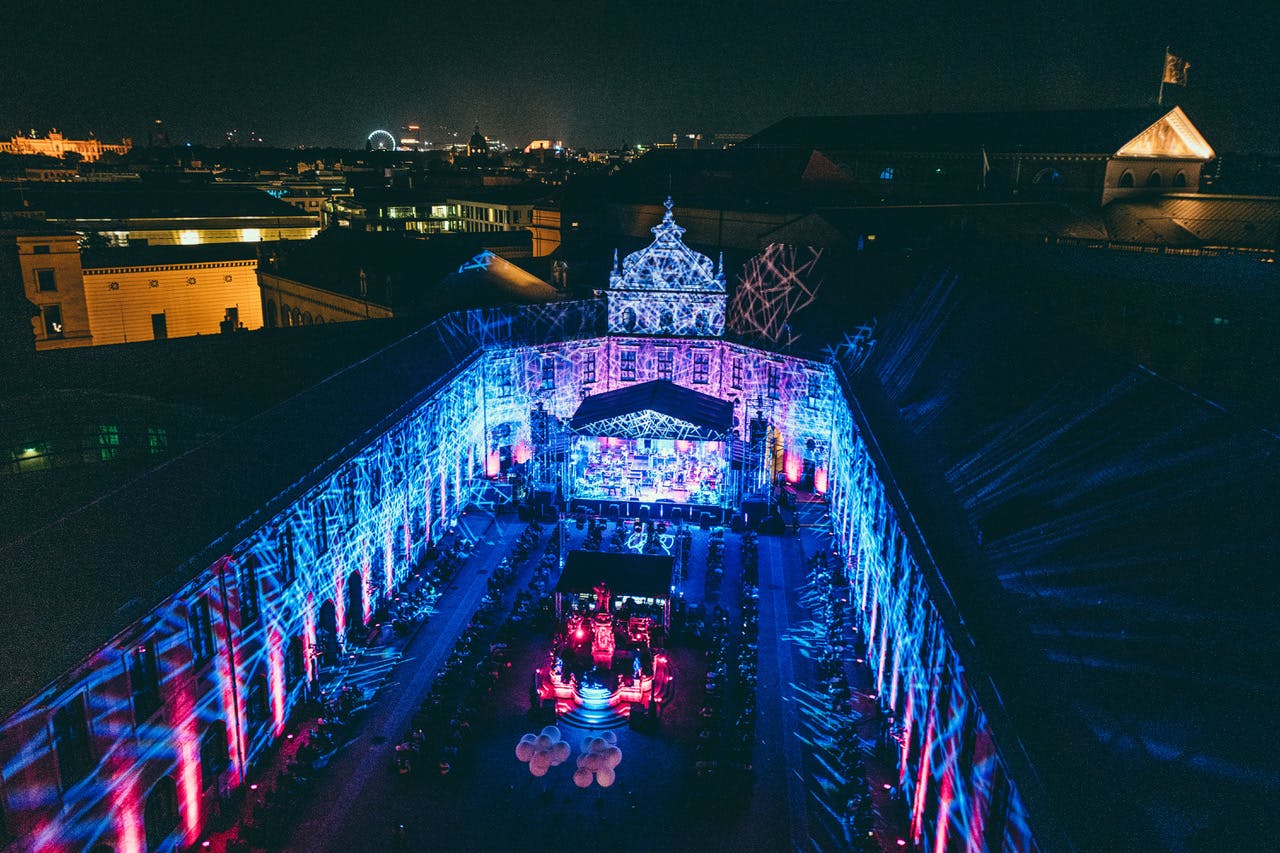 For the BMW concert, specially designed speakers and light setups took advantage of the courtyard's surrounding walls, allowing for high-quality, immersive sound, and a unique light show programmed to the music.Photo: Tobias Holzweiler
Memorable moments: A few recent events stand out in Leftkovitch's mind, including a concert celebrating BMW's IconicSounds Electric initiative in partnership with Hans Zimmer. To enhance the rollout and provide a physical touchpoint in late 2021, Mirrored Media produced an immersive experience where Zimmer performed in the historic Brunnenhof Courtyard at the Munich Residence in Germany.
"This first-of-its-kind concert blended art, interactive sound, lighting, and 360-degree projection mapping for an unforgettable night," Lefkovitch says. "The performance brought the partnership to life through the power of electrification with Zimmer's band playing electric instruments, showing that electrification offers endless opportunities, not limitations. Even though Hans is a friend, mentor, and business partner, his genius never ceases to amaze me."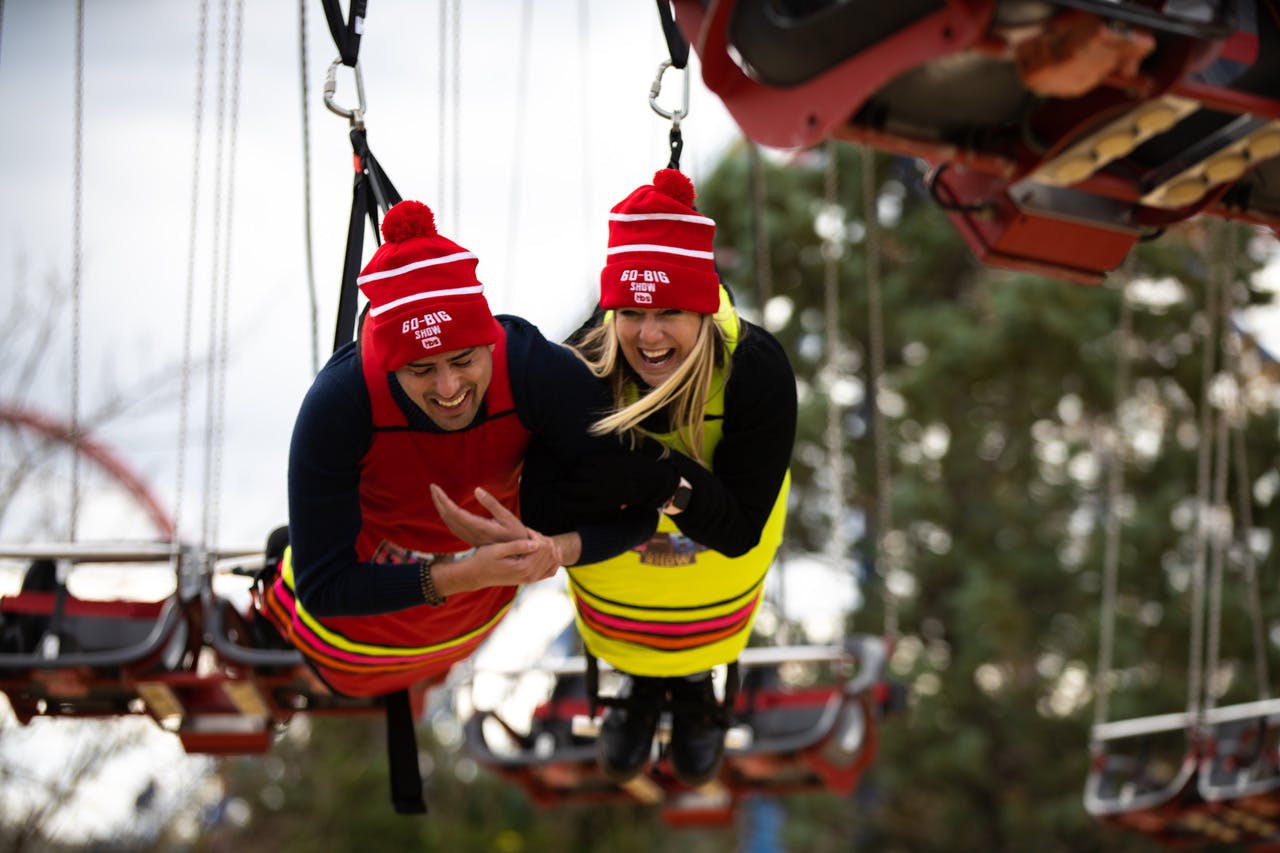 The Go-Big Show experience marked a first-of-its-kind ride modification with Six Flags for a limited-time promotion. TBS and the Mirrored Media team worked closely with Six Flags' engineers, as well as the company's corporate partnership team and local park marketing teams, to pull it off safely.Photo: Courtesy of Mirrored Media
Another favorite comes from a partnership between TBS and Six Flags, celebrating the season two premiere of Go-Big Show, an extreme talent show where contestants perform over-the-top feats to impress the judges and win $100,000. Mirrored Media worked with the brand to launch an over-the-top activation that modified a Six Flags park's SkyScreamer ride by replacing a few of its traditional swings with harnesses—meaning that the ride's most daring fans could opt to strap in and soar 200 feet in the air in a stomach-down, arms-out flight experience. 
"This project meant a lot to me as someone who grew up playing Roller Coaster Tycoon so much!" Lefkovitch says. "It's always rewarding to work on a project that weaves some of your childhood passions with your livelihood."
His favorite thing about the experiential industry: "That moment where everything comes together," he explains. "There aren't too many industries that allow you to be a part of the journey from start to finish. It's incredibly rewarding to see some of the grandiose productions and events that we have executed, knowing that they began as just a couple of wild ideas swimming through my brain one night."
Read the full story HERE.