Bose dials up spatial audio with new headphones and earbuds

The QuietComfort Ultra headphones and earbuds mark Bose's belated entry into the spatial audio arena. Snapdragon Sound with aptX Adaptive is another welcome highlight.

Freelance Contributor, TechHive SEP 14, 2023 11:30 AM PDT
Image: Bose
Bose chose the Weylin, a grand and historic 19th-century Brooklyn bank turned event space, to unveil its next generation of QuietComfort products on Thursday. Was the team suggesting buyers will enjoy a great return on their investment? We'd argue "yes."
The new Bose QuietComfort Ultra Headphones ($429), QuietComfort Ultra Earbuds ($299), and QuietComfort Headphones ($349) all promise to surpass the rock-solid noise cancellation, high-quality sound reproduction, and stable, comfortable wearability of their top-rated predecessors, the Noise Cancelling 700 headphones ($379), QuietComfort Earbuds II ($299), and QuietComfort 45 headphones ($329). 
Most newsworthy, the two "Ultra" tagged models jump into the (much buzzed about) spatial audio arena with a customized set of signal processing techniques dubbed Bose Immersive Audio.
The toolkit works expansive sound-field deepening and detailing effects on listeners across all content and all platforms, unlike Dolby Atmos and Sony 360 Reality Audio treatments that are specific to just some material, streaming services, and rival headphone makers. Whilst devotees of Spotify and Pandora arguably haven't had serious enhanced soundfield playback options before, now they do, says Bose.
Putting the listener in a virtual "sweetheart seat," the three-dimensional Bose processing is user-activated in either "Still" or "Motion" modes. The former is designed for listening when sitting down, while "motion" keeps the audio out in front while you're on the move.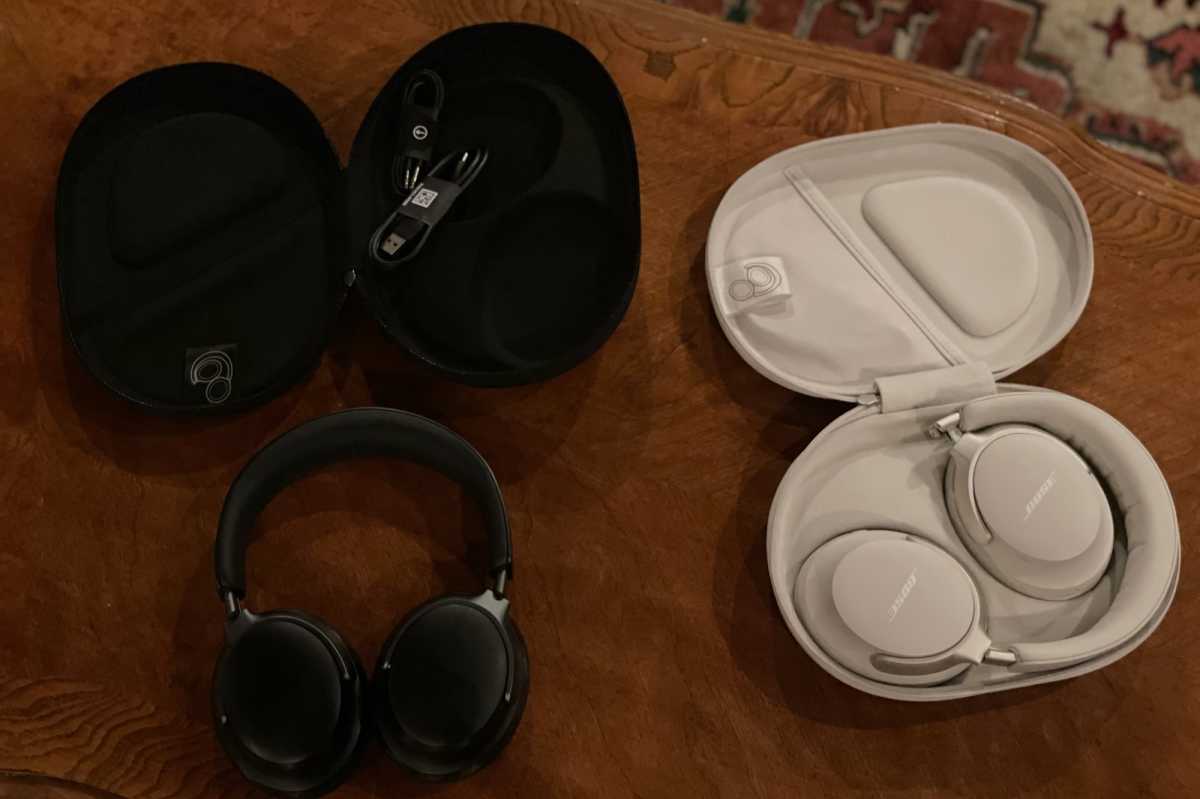 The rotatable ear cups, enabling a more compact carry case, are the biggest design change in the new QuietComfort Ultra Headphone in comparison to its predecessor, the Bose Noise Cancelling 700, which also folded flat but didn't swivel inwards.
Both are enabled with an on-board Inertial Measurement Unit (packed with a gyroscope and accelerometer) and proprietary Bose digital signal processing that's maximized to the individual user's ears through the maker's CustomTune measurement/calibration technology. (It briefly "pings" your ears every time you put the music makers in place.)  
Yes, several other headset makers–including Samsung, Soundcore, 1More Audio and Steel Series–have introduced some form of homemade (i.e. non-Dolby, non-Sony) "spatial audio" processing in recent models. None have performed well enough to win critical plaudits. 
After our first brief listening session with the Bose buds and 'phones–with more extensive testing to follow–it's easier to argue that their design team has really cracked the code. 
While the cans or buds are tight on your ears, the sound doesn't seem to be hammering inside your head, but rather emanating from wide-dispersing stereo speakers spaced several feet in front of you.  
The most notable design change of the QuietComfort Ultra Headphone involves the newly rotatable ear cups, which allow for a smaller carrying case than that of its predecessor, the Noise Cancelling 700 headphone (the 700 also folded flat but didn't swivel inwards). Color contrasting, bead-blasted anodized-aluminum swivel and slider pieces are also upgraded for stability, finer adjustments, and a more stylish look
Exponential IT reflects a paradigm shift for IT leaders as they face a rapidly accelerating curve of technological change. To succeed in...
Under the hood, the new flagship headphone boasts a "completely re-engineered system that includes proprietary signal processing, a robust chip set and advanced microphones," said the maker. With the QuietComfort Ultra Earbuds, Bose is touting new dynamic microphone mixing and adaptive filters. 
The new Bose QuietComfort Ultra Earbuds (one of which is pictured on the left) add a touch of metallic bling compared to ithe QuietComfort Earbuds II.
These upgrades improve on Bose's already exceptional noise cancellation and CustomTune process. And it enhances the "beam forming" voice pickup that sharpens the clarity of calls and increases the likelihood that your virtual personal assistant will actually fathom and follow through on your spoken request. 
The QC Ultra Headphones and QC Ultra Earbuds both feature the Snapdragon Sound Technology Suite supporting the latest Qualcomm aptX Adaptive codec for lossless high-resolution streaming and low latency with Android devices. Both models also lay on Google Fast Pair and are Bluetooth 5.3 compatible, with future feature upgrades looming as a possibility.
Battery run time is improved by four hours (now 24, with Immersive Audio off but ANC on) in the upgraded flagship headphones.
The Ultra Earbuds add spiffy metallic accents and upgrade their predecessors' already effective (and barely noticeable) ear-clinging stability bands with a new locking feature that will further insure they stay securely in place. And for those who bemoaned the predecessor buds' lack of Qi charging capability, a new silicon slip-on charging case cover ($49 at Bose.com) is coming October 20th for both the Ultra Earbuds and the QC Earbuds II. 
Bose's core ANC model–the QuietComfort Headphones–improve on the QC 45s with the ability to adjust noise cancellation levels and set custom modes in the Bose Music app, by offering multipoint Bluetooth 5.1 capability, and by bumping up run time from 22 to 24 hours.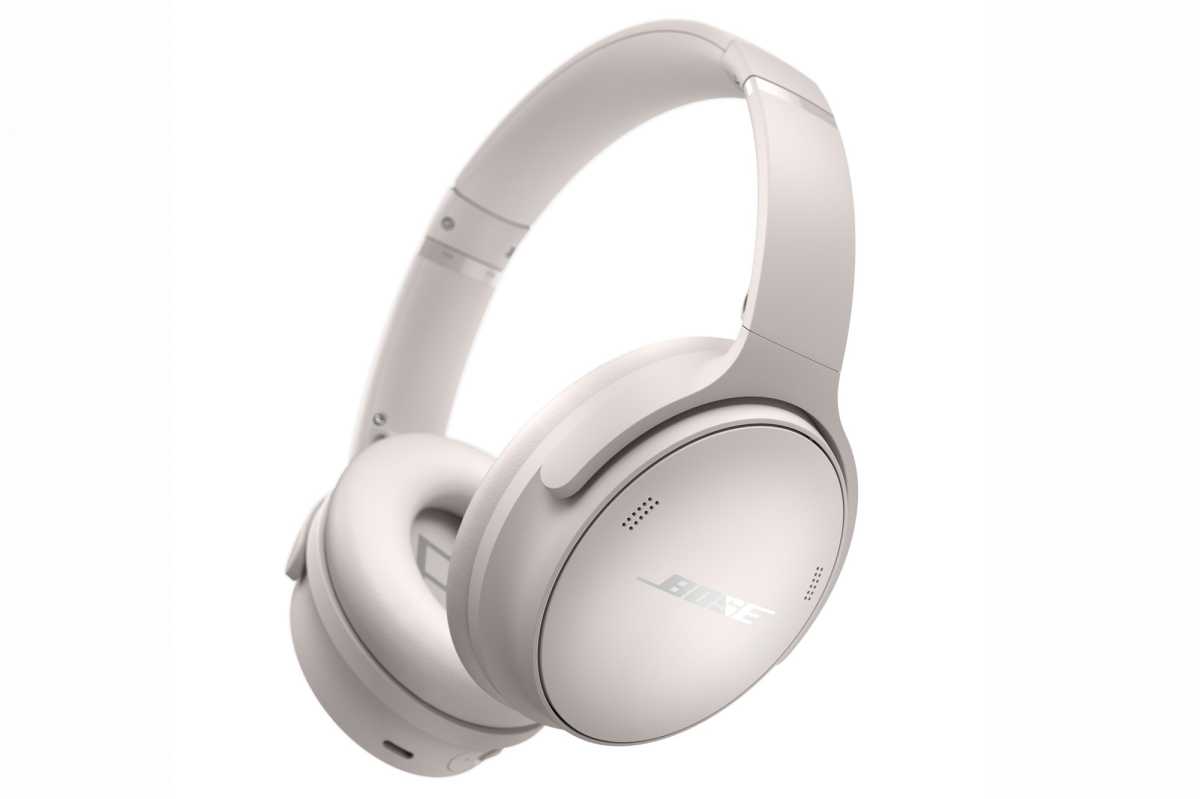 They also now support Spotify Tap to start a listening session with a button push and include an audio cable with line-in microphone for wired listening or communications. And for those interested in a standout look, the QC Headphones will also be available (starting September 21) in a new limited-edition Cypress Green color, as well as in Black and White Smoke.